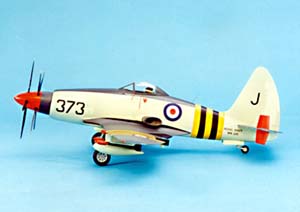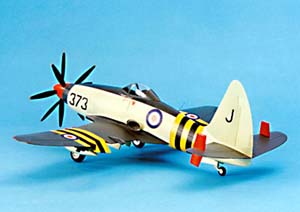 The Wyvern was the last fixed-wing aeroplane to be manufactured by Westland and was designed as a single seat carrier-borne strike aircraft of all-metal construction.

The first prototype flew in December 1946 and was fitted with a Rolls Royce Eagle engine of 2,690 hp the most powerfull piston engine produced by Rolls Royce. The 24 cylinder engine was situated in the centre fuselage drove contra-rotating prpellors via a long shaft.
The production planes were fitted with an Armstrong Siddley Python turbine-propellor engine of 3,670 hp with 1,180 lb (540kg) residual thrust driving a 13 ft (3.9m) diametre Rotol Airscrews eight blades contra rotating propellor.
The Wyvern saw service in the Anglo-French Suez Campaign in October 1956 and the last squadron was finally disbanded on the 29th March 1958.
The last surviving aircraft can be seen at the Fleet Air Arms Museum in Yeovilton, England.
Specification;
Span : 13.4m (44ft)
Length : 12.9m (42ft 3in)
Weight (loaded) : 9,603kg (21,200 lb)
Max speed : 616kmph (383mph)
Service ceiling : 8,534m (28,000ft)
Range : 1,464km (910miles)
Armament : 4 x 20mm cannons, 1 x 1,130kg (2,500 lb) torpedo, or 2 x 450kg (1,000 lb) bombs, or 16 x 11kg (25 lb) or 40kg (90 lb) rockets.
Wyvern is the most populer kit of Dynavector models. More than 4000 kits have been produced.
Many model magazines recomend this kit as an ideal first vacu-kit for every modellers.
The fuslage mounts on the single piece main wing. The all parts fit accurately. Very little filler will be required.
The characteristic huge spinners are made from resin.
KIT CONTENTS
23 x Vavu-form parts
51 x White metal parts
including 6 x rockets
6x Resin spinner & nose parts
2 x Crystal clear canopies
Decals for 3 versions
Retail price (Japanese yen) JPY7,200


THE KIT NO LONGER AVAILABLE.
Sorry and many thanks.