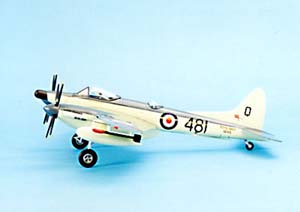 KIT CONTENTS
41 x Vacu-formed parts
Icnc. 2 x Underwing drop tanks
64 x Precision white metal parts
inc. 4 x Rockets
Crystal crear canopies with a spare set
Quality silk screen decals with 3 versions
Retail price (Japanese Yen) JPY6,800
Specifications;
Span : 13.71m (45ft)
Weight (loaded) : 8,859kg (19,550lb)
Max speed : 742kmph (472mph)
Engine : Rolls Royce Marlin 2,030hp
Armament : 4 x 20mm cannon
This kit is designed to make an NF21with the strange radar nose molded to fuselage parts.
A set of short nose F20 conversion parts are also included.
PLEASE NOTE;
There are the same 1/48 Sea Hornet kits from a short run injection kit company of USA.
There is no connection between Dynavector and them, though you may find many parts are the same as ours.
A Czech manufacturer seems to have used our kit as an easy pattern without any legal agreement.
A durty world, alas.
De Havilland Hornet was a successor of the famous Mosquito. It was designed in early 1940s as a long range fighter to attck Japanese targets in the expanding South East Asia front.
The first flight was made on 28 July 1944 and the performance exceeded expectation.
The production started in February 1945, but was not in service until 1946.
The Sea Hornet was a naval version with the folding wing and an arresting hook.
Its first flight was made on 18 April 1945, and 79 Sea Hornet F20 were produced.
NF21 was a radar equipped night fighter version to replace the aging Fairey Firefly NF1.
Its distinctive shape with extended nose for ASH radar and an observer dorsal cockpit was rather strange design, though the max speed loss was only 8kmph ( 5mph).
In total, 78 NF21s were produced.
Despite the superb performance of speed and manoeuverability, the Sea Hornet had spent a relatively short period in service due to the rapid progress of jet fighters such as the Sea Venom and Supermarine attacker.

All Sea Hornet and Hornet were scrapped until 1957, none was preserved.
If it has survived as a museum collection, it could be a popular clasiic aircraft, but it was said that the wooden structure tended to rot and it was difficult and expensive to maintain.
Only a part of a Sea Hornnet fuselage is stored by The Mosquito Museum in Hlatfield, North London.